Whew! Last week really got away from me didn't it? There I was promising you some freebie to go with my newest kit. I am sure you all waited patiently for them...waiting...waiting... sorry then never came! The Earth Day Blog hop was a big hit though! That was fun! Sorry I never got around to the other stuffs. I had to work 3 days in a row, Thurs-Sat. I know that doesn't sound like a lot, but I usually only work once or twice a week. And it's nights, so I don't get home until late. And I am on my feet the whole time I am there. And my uniform doesn't fit anymore, so breathing is difficult. Have I earned your sympathy and forgiveness yet? LOL Seriously though, I was so pooped from working 3 days in a row, I slept a ton Sunday. It was soooo nice! Then to top it off, my hubbs started watching season 1 of 24, and ya know how that goes! 24 Episodes in 48 hours! Ouch, gives me a head ache thinking about it! But this week is blissfully empty, no work or plans what so ever! I plan on buckling down and doing some scrapping, I've got CT stuff to catch up on. It's going to be so nice.
Here are a few more LO's I had to show you with Sweetest Thing.
Meagan x2
Carrie~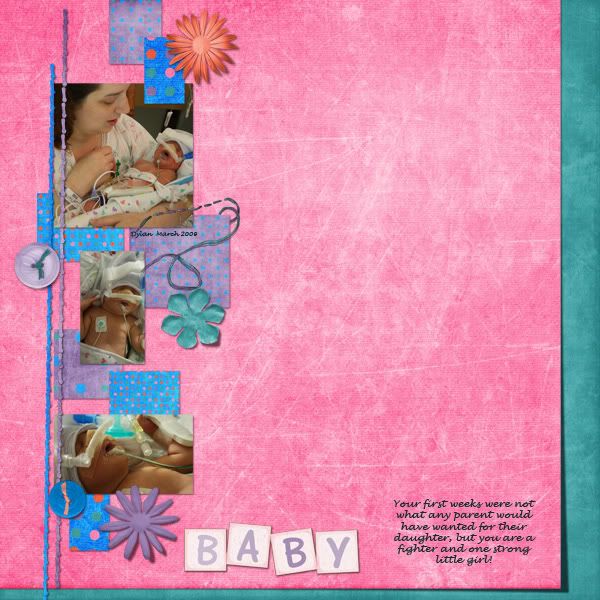 DeAnna~
And here is the full preview, case you forgot! Also, I DID get a freebie packaged up for you! Woke up early and did it this morning! Hope you all enjoy it!
There are the 3 journal tags in each of the 5 colors. Perfect for any addition to a baby page where you want to tell a little story! Enjoy these babies
HERE