I have a new kit out in the stores today. I have been so excited about this kit! If you have kids or grand kids and they are anything like mine, they love to read! I have so many pictures of my dear son reading picture books to himself. This kit is the perfect kit to scrap all those fun reading times. With bright colors, and fun characters, this kit is a must for any scrappers library. Kit includes 16 papers, and 53 elements including~
Fun story book character like the big bad wolf, a little pig, 2 book worms, a hedge hog, an owl and a snail.
3 Apples
2 Arrows
2 Doodle Boarders
1 Book
3 Buttons
1 Clasp
1 Clip
2 Clouds5 Flowers
3 Frames
4 Glitter Sprays
1 Leaf
1 Mini Boarder
2 Mushroom Houses
4 Ribbons
1 Staple
3 Strings
3 Tags
2 TreesHere is some great CT LO's! I love my team! They always impress me!!
De-
Beth-
Carrie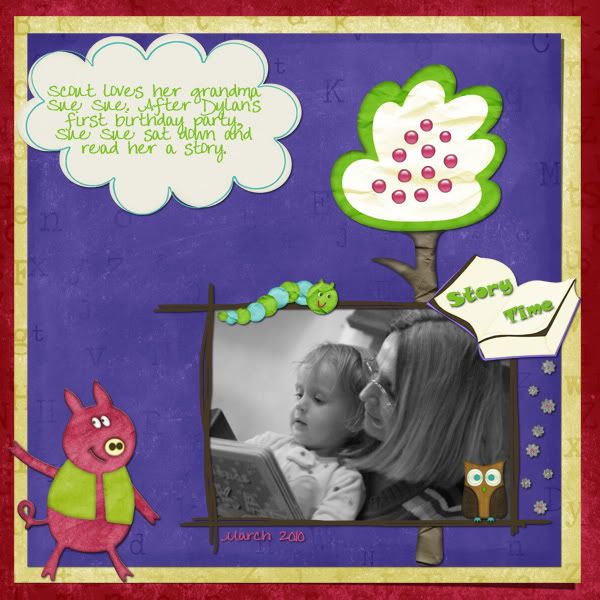 Kathy x2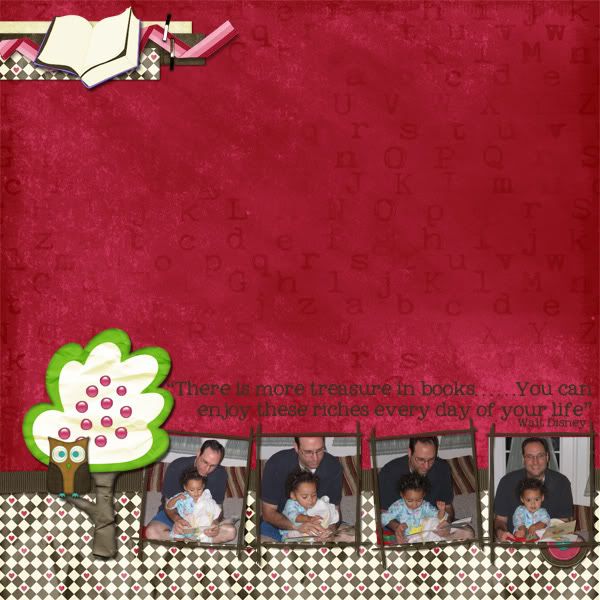 Kim x2
Christie Dawn
And ME! I had these pictures forever and couldn't wait to get this kit done so I could scrap them. That is my little boy reading Sesame Street books that I used to read as a kid. How fun is that? His favorite is Elmo, but these books were made before Elmo's time, LOL his second favorite is Bert and Ernie though! I might have this as a qp freebie tomorrow... we'll see :P
Here is a little freebie alpha I made for you all. Pretty versatile, could be used with so many LO's! You can grab this alpha
HERE
Hope you like it! Leave me some love, I'm getting pretty huge and need extra love these days. LOL
Here is the full preview- isn't it fun? Full of fantasy and whimsy and all those fun things little kids associate with reading books! You can get it at
Gingerscraps
or
The Studio
, on sale!